Pop up Playgroups
Sacred Heart Pymble operates a formal playgroup 'Pop Up Play' for children beginning Kindergarten in 2023.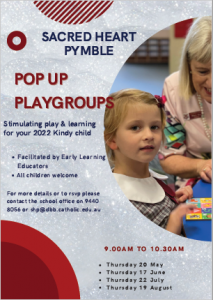 This program is an optional playgroup program facilitated by early learning educators aimed at making connections with families who have children commencing school in 2023. The program offers play-based sessions designed to support:
Early concepts of literacy and numeracy
Oral language development
Development of the child's disposition to learning
Parent's role in supporting their child's learning
Pop up at Home
Unfortunately due to the current COVID restrictions we are unable to go ahead with our planned dates for Term 3 however we will be offering some "virtual sessions" in the coming weeks.
See below for a list of Pop up @ Home activities to keep your Pre-schooler busy: