The P&F have set up the parent library. The books are available from the library, or if you are unable to pick up a book yourself, email the school on shp@dbb.catholic.edu.au and the book will be sent home with your eldest child. Borrowing will go on your child's account  and is for one week only. You you can renew your book by emailing the school.
There are many titles available.  The following is just a few: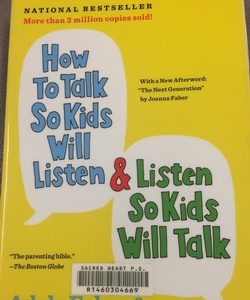 How to Talk so Kids Will Listen and Listen so Kids Will Talk
By Adele Faber and Elaine Mazlish
This book was first published back in 1980 and has been in print ever since, with over 3 million copies sold.  So I was keen to get my hands on the latest edition, published in 2012 and including an afterword by the daughter of one of the authors.
The ideas and examples presented here can help you to help your children cope with negative feelings, help you express your frustration or anger without being hurtful, engage your child's willing cooperation, set limits while maintaining goodwill and resolve family conflicts peacefully.
Sounds too good to be true, right?  But this is a fabulous, commonsense book about how to start "tuning in" to your children.  It has been presented for many years as a parenting course and the book follows a similar pattern, giving information on a particular topic (eg. Helping children to deal with their feelings, encouraging autonomy), providing concrete examples from parents who have attended the courses and then giving exercises/examples to be worked on at home, before moving to the next step.
If you're looking for a circuit-breaker for day-to-day struggles at home or just a new way of looking at dealing with conflict with your children, this is a great resource.
The Optimistic Child
By Martin E.P. Seligman, Ph.D.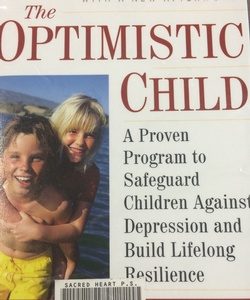 "Resilience" is the latest catch-cry in education, parenting and the workplace.  We want to teach ourselves and our children the skill of resilience so we can cope with the setbacks that life inevitably serves up.  Seligman's book "The Optimistic Child" provides a clear, practical plan of action that can be used to help children learn resilience through optimism.  Seligman himself is a professor of psychology at the University of Pennsylvania and he has brought his years of research and experience to this book.
Through this book, Seligman seeks to arm parents with the tools to combat pessimism and, ultimately, depression in children.  The skills taught in the book can help children to recognise and challenge their negative thoughts and build a more optimistic "lens" through which to view the world.
While you may not need to work through all the steps in the programme outlined in the book, it is a great resource to have on hand for children who tend to think pessimistically or focus on the negative in everyday life.
The skills in this book are not just useful for children but for us as parents as well.  As children watch us and model our behaviour, it can be helpful to take a few leaves out of Seligman's book and try a little more optimistic thinking ourselves.
Mindset
Dr Carol S. Dweck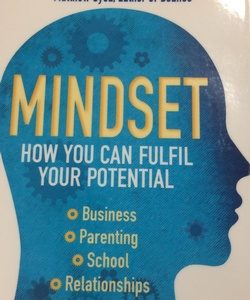 Dr Carol S. Dweck is widely regarded as one of the world's leading researchers in the fields of personality, social psychology and developmental psychology.  In "Mindset", Dr Dweck explains why our success is not just dependent on our abilities and talents, but on whether we approach tasks with a fixed or growth mindset.
With the right mindset, we can set our children onto a path of growth and motivation that can help them reach their goals at school, on the sport field or in their personal life.
This book is not a "parenting" book but it does provide some valuable insights for us as parents into the way we can influence the mindset of our growing children.  It is a fascinating book which provides many examples of how different mindsets have affected the success or failure of businessmen, leaders, sporting greats and growing children.  In particular, it shows us the importance of how we speak to our children about "success" and "talent" and whether we talk to them about the value of learning versus results.
I loved reading this book and thoroughly recommend it.