Sacred Heart caters for the spiritual, academic, physical, emotional, social and creative needs of children throughout their primary years from Kindergarten to Year 6.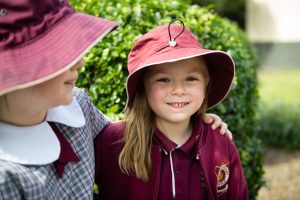 The present enrolment is 291 children totalling 11 classes.
Sacred Heart School is renowned for being faith-filled and friendly, vibrant and welcoming; with supportive and involved parents/caregivers and a commitment to providing a safe, engaging and enjoyable learning environment.
A sequential religious education program, appropriate to the developmental level of the child, forms an integral part of the school curriculum.
Opportunities are provided for the children to celebrate both class and school liturgies and masses, and to participate in Sacramental Programs. Educational philosophies of the school are formulated to reflect Christian Values as expressed in the Gospels and Church teachings.
Children are encouraged to strive for personal excellence in curriculum areas and to extend and develop their full potential in all their endeavours. Caring and professional staff support the children in a positive environment where self-esteem can flourish.
The school curriculum is underpinned by Catholic values. Alongside this, the Positive Behaviour for Learning (PBL)  approach is embedded within the life of the school. This approach has as its main focus teaching and supporting appropriate student behaviours in order to create a safe and supportive learning environment.
Our motto, Esse Non Videri – 'to be, not to seem', inspires our community to work together to continually strive for personal excellence.
Pastorally, the school is cared for by the Salvatorian Priests, namely, Fr Boguslaw Loska SDS and Fr Christopher Kowalczyk SDS. The Salvatorian Order was founded in 1881 by Father Francis Jordan who taught of the truths of the Catholic Faith so that "all may know the goodness and kindness of the Saviour".