Welcome to Sacred Heart Pymble!
As a member of system of schools known as Catholic Schools Broken Bay we seek to inspire hearts and minds to know Christ, to love learning, to use their talents to be the very best they can be.
Our principal, teachers, staff and parents all work together with the wider community to deliver authentic, professional Catholic education with care and compassion.
Our teachers are committed to the mission of Catholic education and apply evidence-based practice to support students to learn and to gain the confidence and skills to enable them to be involved in shaping their society.
OPEN DAY
Come along to our Open Day and see how we are our inspiring students to love learning and to be the very best that they can be.
DO YOU NEED TO BE CATHOLIC TO ATTEND A CATHOLIC SCHOOL?
No, your child does not need to be Catholic to enrol at a Catholic school. While preference is given to students of the Catholic faith, particularly if you are active in your parish, our schools welcome families from all backgrounds or faith traditions who share in our mission and purpose.
K-12 Enrolment
Catholic Schools Broken Bay will offer K-12 enrolment during 2021. This will provide you with some surety around enrolment in our systemic secondary colleges for your child.  As the option becomes available, you will only need to provide one enrolment form in primary school and complete a simple updated form to ensure your child's continued enrolment in one of our systemic secondary colleges.
Sacred Heart Catholic School serves the parish of Sacred Heart Pymble. We follow the enrolment procedures specified in the Catholic Schools Office, Broken Bay Enrolment Policy.
Kindergarten Enrolments
The enrolment process for families considering Sacred Heart Catholic Primary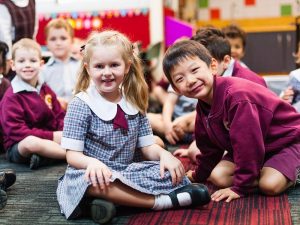 School for their child starting usually begins in March of the preceding year.
'Come and See Big School' is Sacred Heart's Open Day, and includes tours of classrooms and facilities, and opportunities to ask questions.
Part of the enrolment process is also the opportunity for children and parents to meet with the School Principal and one of the Pymble Parish Priests.
Parent information sessions and transition mornings for the children are held during the first few weeks of term four. At this time, senior students are also appointed to act as mentors for each new Kindergarten student at Sacred Heart. Our senior students 'buddies' take great pride in this aspect of their leadership role as seniors of the school.
Considering a pathway to Catholic high school education? St Leo's Catholic College is a comprehensive, coeducational secondary College located in the heart of Wahroonga. St Leo's along with Sacred Heart form part of the Community of Catholic Schools in the Diocese of Broken Bay.
For more information or further details please contact the school office Contact Us.
Years 1 to 6 Enrolments
The school also accepts enrolments  at any time throughout the year.
Enrolment Priorities and Criteria
Priority in enrolment will be given to:
Those children and families who are known and involved members of the local Catholic parish communities.
The children of Catholic families that have expressed a commitment to support the life of the Catholic school in the parish.
The children of other Christian families that have expressed a commitment to support the life of the school.
The children of non-Christian families that have expressed a commitment to support the life of the school.
Upon receipt of your child's enrolment form, we will contact you to invite you to meet with the Principal Mrs. Mary Hor.
Enrolment Form
Schedule of Fees for 2021
Standard Collection Notice
Priest Reference Form
COVID-19 Fee Relief
Catholic Schools Broken Bay are committed to supporting families as the impact of COVID-19 continues to be felt in the community. No family will be excluded from our school because of financial difficulties.
Even if you have not enrolled yet, we would like to offer the following help with school fees if you need it:
A full reduction on ALL fees if your family gets JobSeeker.
A 50%+ reduction on ALL fees if one parent in your family gets JobKeeper.
If you are unsure if your family can get fee help or need assistance completing the form please contact our COVID-19 FEE HELP HOTLINE on 9847 0728 (8am – 4pm Monday to Friday).
Please find the 2021 Fee Relief Request form here and return to us at schoolfees@dbb.org.au