School Sport
At Sacred Heart Pymble, we employ a specialist Sports teacher who works with all classes for one lesson per week. We also provide speciality sports clinics for some sports such as AFL and Tennis.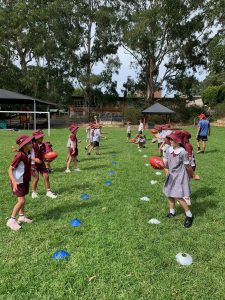 Gala Days
Sacred Heart students participate in Cluster Gala Days.  These sports include Netball, Eagle Tag and Football (Soccer).
Representative Sporting Pathways
Students have the opportunity to represent our school at Broken Bay Diocesan, Polding and State levels. These are the students who qualify from our School Sport Carnivals such as Swimming, Cross Country and Athletics.
There are also opportunities for students to attend Broken Bay trials that are held throughout the year for numerous sports.  These include Winter Trials for AFL, Rugby League, Netball, Hockey, Football (Soccer), Touch and Rugby as well as Summer trials for Basketball, Tennis, Cricket and Softball.
Students in Years 4-6, who play at a representative level for their local club, are encouraged to attend these trials.  If selected in the Broken Bay team they will subsequently attend the Polding Trials.
The aim of the Polding trials is to select a team to compete at the PSSA State Carnival and to give students who display outstanding ability the opportunity to be considered for selection in the NSW PSSA State Team. These carnivals are often held over three to four days.